Tweet deleted: Even Trump is 'embarrassed' by Mahmoud Abbas
Tweet deleted: Even Trump is 'embarrassed' by Mahmoud Abbas
Palestinian President Mahmoud Abbas faces sneers and jeers after US President Donald Trump deleted a tweet, in which he had described meeting Abbas as "an honour".

Palestinian President Mahmoud Abbas faced mocks after US President Donald Trump deleted a tweet, in which he described the meeting with Abbas as "an honour".

Trump tweeted his hopes that "something terrific" could come out of "Palestinians and Israel," embedding a short video summarising the meeting between the two leaders.

The video emphasised the positive implementations of the visit, and had also included the moment in which Trump and Abbas shared a handshake.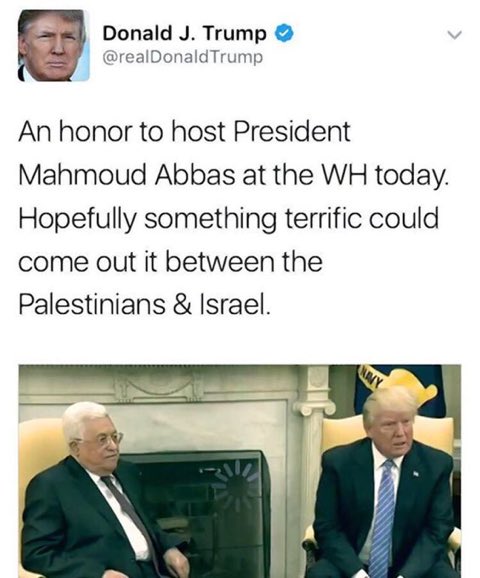 US President Donald Trump met Mahmoud Abbas on Wednesday for the first time since coming to office.
Deleting the video had resulted in Abbas being mocked vhelemently on social media by his critics.
This has caused further damage to Abbas' reputation, especially considering him becoming increasingly unpopular in Palestine.
Polls show two-thirds of Palestinians want Abbas to resign.

Abbas had hoped that Trump would have been able to pressure Israel into salvaging the two state solution, despite the US president sending mixed signals about its desirability.

This comes after Trump had widely neglected the Palestinian plight during his electoral campaign, and the early days of his presidency.

The meeting was set up as a part of recent efforts by the US administration to rescue the Palestinian-Israeli peace process, by avoiding a further exasperation of hostility between the two parties.